We completed our first offshore project as early as 1980. Since then Rumag have gone from delivering safety signage to the Norwegian offshore industry to becoming a preferred supplier of safety signage world wide.
With extensive experience in signage we deliver a complete package from engineering to installation, according to rules and regulations in any given country.
Our product range complies to different standards around the world and the quality is fit for a long life offshore. The different solutions can also be adapted to any language.
With constructional changes you might also want to upgrade the safety signage. With qualified personnel we offer surveys to detect where and what has to be done to maintain correct signage according to law and regulations.
At demand we also engineer complete signage systems together with necessary drawings and documentation.
Serious accidents can easily happen when you're climbing ladders. That's why it is important to slip-proof your ladders, in order to reduce the risk of stumbling or falling. The ladder rung covers are produced from quality fiberglass which is incapsulated with aluminum oxide, thus securing great grip even in contact witch water, oil or other slippery materials.
The ladder rung covers are available in multiple variants, all with the same high quality:
Round, square or diamond profiles
In multiple colours
Easily installed directly on existing steps
10 year warranty
Most accidents involving slipping or falling happens in stairs, often in places exposed to water, chemicals or other kinds of spill. By increasing the friction at the edges of the steps, you ensure better grip and lessen the odds of accidents.
Can be made in sizes fit for existing steps
Can be installed on steel grates, wood or concrete
Available in multiple colours, sizes and with text or pictograms
10 year warranty
Markers for escape routes
Painted escape routes can easily become time consuming and expensive, without providing a long lasting visibility. Our profiles replaces this with a solution that is easy to install, highly visible and have a long life span.
10 year warranty
Estimated to save 66% of cost compared to painting escape routes over a 10 year period.
Available in custom measurements and colours. A standard marker measures 1200x100x3,5mm.
Available with and without directional arrows.
Slip – and fireproof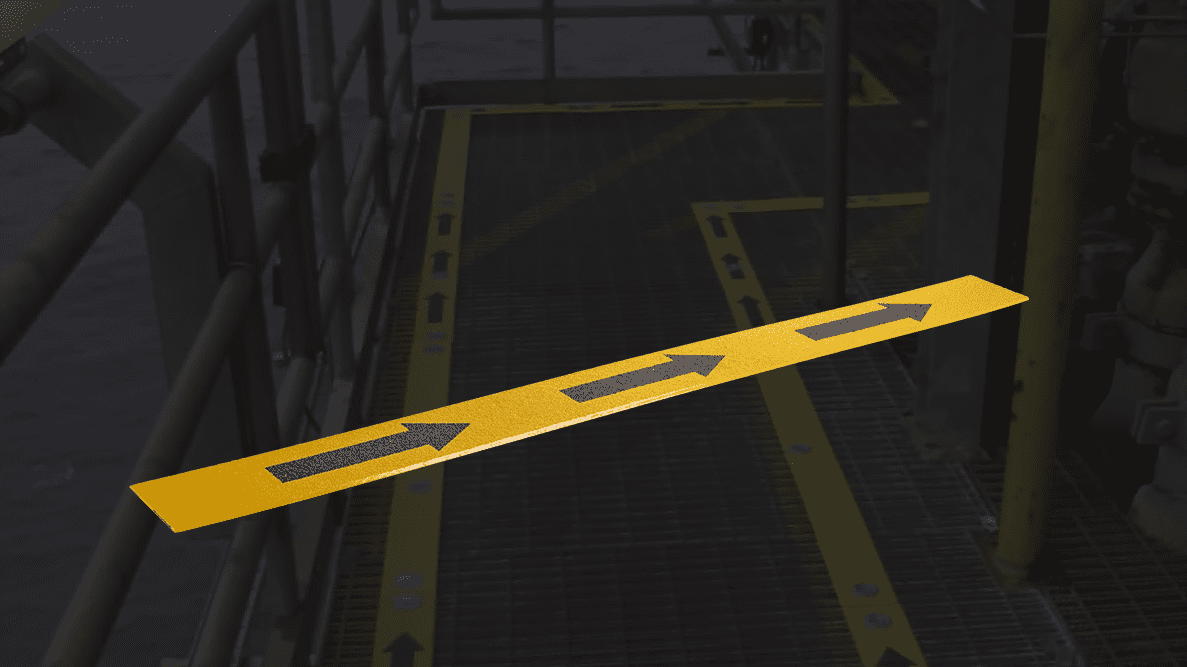 No grid was found for: Referanser Offshore.